Simplifying access to specialty care
You're at the centre of every decision we make
At BioScript Solutions, we aim to ensure patients prescribed specialty drugs are cared for and supported at every stage of the treatment journey. Our experienced team of pharmacists, nurses and case managers can handle the paperwork, guide you through the process, and help you navigate complex medication reimbursement pathways. We understand how challenging and confusing complex treatments can be, and we provide specialized education and support personalized to your condition. Our mission is to make your health care simple so you can get the medications you need — and focus on what matters most.
Personalized services for you
bioscript pharmacy
Pharmacy
Our pharmacies are located from coast to coast and deal exclusively with specialty medications, including biologics. We have in-depth understanding of how they work, potential side effects or adverse reactions, and expected outcomes. We offer refill reminders, customized treatment monitoring, and our pharmacists are always just a phone call away to answer any questions you may have. We'll also arrange fast, reliable delivery to your home, office or nearest clinic — at no cost to you.
Learn More
Discover the BioScript Pharmacy

difference
How we support you
We look at your condition from a holistic perspective and coordinate care with your team of health care professionals. Our services are designed to support your medication and health care needs throughout your treatment journey.
We offer:
Convenient access to a wide range of specialty medications,

Cold chain management of infusion, injection, oral and biologic drugs,
Extensive disease management support through phone or in-person counselling and education,

Assistance with drug access navigation and insurance reimbursement,

Coordinated care management with your physician, clinic and patient support program,

Free medication delivery to your preferred location,

Treatment monitoring with customized adherence plans,
We've committed to going green by reducing waste and diverting packaging material from our landfills. You can help make an environment difference by recycling, reusing, or returning the cooler and shipping materials through our Cooler Return Program. Our Cooler Return Program is easy to follow and there is no cost to you to return the package back to BioScript Pharmacy.

To talk with a BioScript Pharmacy associate, please call 1 855-562-4679.
Our pharmacies dispense medications for:
Autoimmune diseases

Connective tissue disorders

Dermatology

Gastroenterology

Hepatic conditions

Immunology
Musculoskeletal conditions

Neurology

Oncology

Ophthalmology

Respirology

Rheumatology
Coverdale Clinics
Get to know us
The nurses who run our Coverdale infusion and injection clinics are highly experienced in administering specialty drugs. We go above and beyond to make sure you're comfortable and that your treatment experience is as seamless as it can be. With more than 100 locations in communities across the country and convenient extended hours, we make it easy to schedule appointments that work for you.
Learn More
What makes Coverdale Clinics special?
Preparing for your appointment
Our Coverdale team will work with you to ensure you're prepared and comfortable for your appointment. If there's anything you need, we're here to help. You can also take a virtual tour of one of our clinics. For more information on how you can prepare for your appointment during COVID-19, click here.
Here are some tips for the best experience:
Drink plenty of non-caffeinated fluids before your appointment — being well hydrated will make starting your intravenous (IV) line much easier and help you feel better during and after your appointment. 

Wear comfortable clothes with loose-fitting sleeves so your nurse can easily start your IV line. We encourage you to bring cozy blanket and dress in layers so you can be as warm or cool as you want to be.

Have a snack before your appointment. You can bring your own or enjoy our selection of light refreshments.
If you feel sick or have been admitted to the hospital recently, check in with your case manager before your next scheduled appointment.  

Feel free to bring your own device and enjoy our complimentary Wi-Fi.

As a courtesy to other patients and our nurses, please be sure to arrive on time for your appointment.

Did you know that we currently offer text message appointment reminders? If you're interested in learning more, call us at 1 866-210-0399 or email us directly at texting@coverdaleclinics.com and one of our customer service representatives would be happy to further assist you.
Treatments for a wide range of conditions
Our injection and infusion clinics administer specialty drug therapies for many conditions, including:
Alpha-1 antitrypsin deficiency

​Amyotrophic lateral sclerosis (ALS)

Asthma

Atopic dermatitis

Cancer

Chronic immune thrombocytopenic purpura (ITP)

Chronic lymphocytic leukemia

Crohn's disease
Fabry disease

Gaucher disease

HER2-positive metastatic breast cancer​

Iron deficiency

Irritable bowel syndrome (IBS)

Macular degeneration

Metastatic melanoma

Migraine

Multiple myeloma

Multiple sclerosis
Non-Hodgkin lymphoma

​Non-small cell lung cancer

​Osteoporosis

Pneumonia

Psoriasis

Psoriatic arthritis

Rheumatoid arthritis

Shingles

Systemic lupus erythematosus

Ulcerative colitis

Urothelial carcinoma
naviego
Patient support programs
We deliver patient support programs on behalf of pharmaceutical manufacturers to take the complexity out of specialty drug therapies. We stay with you throughout your treatment to answer your questions, provide guidance and support, monitor your health, and help you with appointment scheduling and, medication delivery. Our patient support program team will also help you navigate the medication reimbursement process and do everything possible to remove any barriers to continuing your treatment.
learn more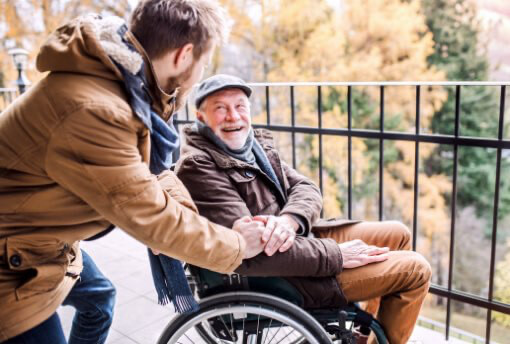 What our patients are saying
" (The BioScript Pharmacy in Alberta has an) amazing location and nice clean facility. Everyone went above and beyond to make the process go smoothly and I cannot thank them enough. "
" I was taken care of like family. The nurses went above and beyond. I am so very thankful for your help. Thank you Coverdale Team and everyone else involved! Very pleased. "
" I am so happy with the model you have set up (at the clinic), it was so welcoming, and it felt safe and professional. I have not received care like this in the last 20 years. "
" The team here has been amazing at helping me navigate complex coverage situations, going above and beyond to help me get medication when travelling, and being proactive about reaching out when my next dose is due. Could not be a happier customer! "
" Incredible pharmacy that makes life so much easier for those who use biologics. They deliver to my door whenever I want, and the staff is amazing and helpful. "
" The Coverdale nurse made me so comfortable it felt like I was at home. She made sure I was aware of everything before beginning treatment and checked in frequently to make sure that I was feeling okay. Thank you Coverdale Clinic Team! "
"Thank you for your professional, caring, efficient and kind assistance administering my injections for my Crohn's Disease. I always felt like I received excellent care and the clinic was extremely well run. I will miss your warmth, humour, and of course, the short bread cookies."
"Thank you from the bottom of our hearts. Mr. Rashid I must tell your entire staff has been absolutely outstanding, every time I had the pleasure of interacting with each and every member of your team it was a wonderful experience. Always personable; always accommodating."
" I appreciate your recent individual attention regarding the potential cost to me for an injection under expired insurance. You took the time to advise me of this months before my scheduled appointment and ended up saving me over $500. "
" I have appreciated all the times staff have given me their utmost attention when I have called with medication concerns and their follow-up calls to see how I was doing. "
" I have been very happy with BioScript Pharmacy's complete worry-free management of my pharmaceutical needs. They have been superb with their service. 5 stars. "
" I want to thank you so very much for your professional and hospitable service. With injections, my wife has been migraine-free for the first time in 50 years! This has dramatically improved her quality of life, and we cannot thank you enough. "
" The Coverdale Clinic team was amazing to fit me in last minute as an "urgent patient" with my flare up of Ulcerative Colitis. I am so grateful they accommodated me into their schedule. Breann was very professional and sympathetic, I am so very thankful for her help. "
" Your customer service was always spot-on, timely and very professional. You made the process of getting the medication seamless. I also appreciated the option to return the packaging to you so it could be reused. "
" BioScript has been extremely helpful getting my prescription to me even when I was away from home. They go above and beyond with customer service. Everyone I have had contact with has been friendly, helpful and informative. I couldn't ask for more. "