bioscript pharmacy
Exclusively focused on specialty drugs
With more than a decade of experience working solely with specialty medications, our pharmacies have in-depth knowledge about all aspects of specialty and biologic drugs: how they work, how to handle and store them, and the best ways to support patients who are prescribed them. As part of our total care approach, we share our knowledge with patients, helping them understand, prepare for and proceed with treatment.
work with us
A partner in patient care
Giving patients the time and attention they deserve
We get to know our patients. From the first contact, we'll take the time needed to answer their questions, explain how their medication works, and talk through any risks, potential side effects and desired outcomes. If their medication can be taken at home, we'll discuss how to safely and confidently administer their medications and arrange delivery options. If treatment is to be administered by injection or infusion at a clinic, we'll make sure they understand the process.
Our 13 pharmacies are located throughout the country and offer timely, secure and free-of-charge delivery to a patient's home, physician's office, a Coverdale Clinic or any other location within Canada.
Removing the cost barrier
Medication cost is one of the most pressing concerns for patients, given the expense of cutting-edge specialty drugs. Understanding the complex reimbursement navigation of public and private coverage and accessing financial assistance through patient support programs can be challenging and time-consuming. We take care of that for patients, working with payors and pharmaceutical manufacturers to help ensure patients can access the treatments they need.
add
Our pharmacies dispense medications for:
Autoimmune diseases

Connective tissue disorders

Dermatology
Gastroenterology

Hepatic conditions

Immunology

Musculoskeletal conditions

Neurology
Oncology

Ophthalmology

Rare diseases

Respirology

Rheumatology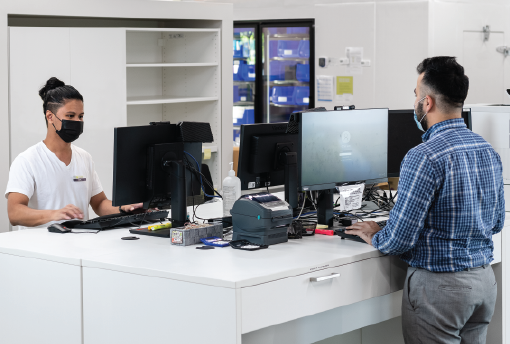 TECHNOLOGY
Personalized from prescription to delivery
We've built a proprietary pharmacy software platform that integrates seamlessly and securely with the leading pharmacy management systems and captures even richer data in real time. This allows us to develop truly individualized workflows and touchpoints for patients based on their conditions and medications, promoting medication adherence and offering timely guidance every step of the patient journey.
Find a pharmacy near you
From Richmond, BC to St. John's, NL our pharmacies provide Canadians from coast to coast with the specialty medications and health care support they need.